India-Pakistan Relations
In this article, we will discuss the history, and more contemporary issues related to India-Pakistan international relations. We will discuss the tension following the independence of India and then Pakistan, subsequent events and conflicts between the two states, and current conditions. We will also discuss the Kashmir conflict within India-Paksitan relations.
History of India-Pakistan Relations
India and Pakistan are neighbors with a history of tensions between one another. Since the independence of India, and then Pakistan, these two states have been at odds over issues that include the Kashmir conflict. The conflict has not intensified recently, but given that both India and Pakistan have nuclear weapons, any heightened conflict between these two countries is cause for even greater alarm; there have been genuine fears that these two states would possibly fight a nuclear conflict. Therefore, diplomats have worked to reduce India-Pakistan tensions over Kashmir.
India-Pakistan Conflict and Kashmir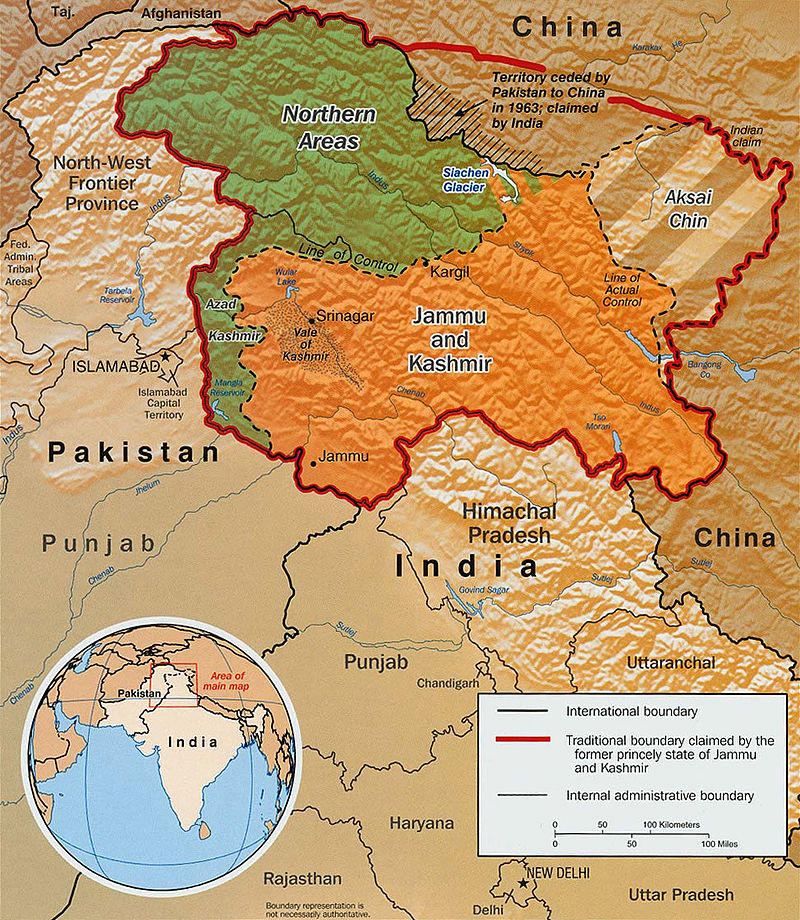 Kashmir is a territory between Pakistan and India, and has been a major point of contention in India-Pakistan relations. As India was fighting Britain for self-rule, in the 1930s, a Kashmiri identity was also being established (Carter Center, 2003). Then, following Britain leaving the Indian subcontinent, both India and Pakistan declared independence. However, there were questions about what would be done with the territory known as Kashmir. Muslim, Hindu, and other secular and religious groups all pushed for their own political interests with regards to the future of Kashmir (Carter Center, 2003). Plus, what separated Kashmir from many other areas and prince-controlled areas in India and Pakistan was its location; being between both states led to calls for Kashmir to choose its political affiliation.
Thus, in order to relieve any hostilities over the future Kashmir, the area was able to choose which country that they would be a part of. At the time, the leader of Kashmir was Maharaja Hari Singh, who was a Hindu. Meanwhile the population of Kashmir was primarily Muslim. So, instead of making a politically divisive choice, he chose neutrality (The Telegraph, 2001). However, this position of staying neutral did not last long when, "in October 1947, as Pakistan sent in Muslim tribesmen who were knocking at the gates of the capital Srinagar. Hari Singh appealed to the Indian government for military assistance and fled to India. He signed the Instrument of Accession, ceding Kashmir to India on October 26" (The Telegraph, 2001).
This move of giving Kashmir to India was not without a great amount of controversy. Pakistan and India began a war in 1947 and into 1948 over Kashmir.
Because of this, the United Nations got involved, as India looked to the international organization for aid in stopping the conflict. For example,
"In January 1948, the Security Council adopted resolution 39 (1948), establishing the United Nations Commission for India and Pakistan (UNCIP) to investigate and mediate the dispute. In April 1948, by its resolution 47 (1948), the Council decided to enlarge the membership of UNCIP and to recommend various measures including the use of observers to stop the fighting" (United Nations, ND).
While the United Nations look to stop the fighting, they also prepared for a vote in Kashmir to decide its future. However, in the meantime, "India, having taken the issue to the UN, was confident of winning a plebiscite, since the most influential Kashmiri mass leader, Sheikh Abdullah, was firmly on its side. An emergency government was formed on October 30, 1948 with Sheikh Abdullah as the Prime Minister. Pakistan ignored the UN mandate and continued fighting, holding on to the portion of Kashmir under its control. On January 1, 1949, a ceasefire was agreed, with 65 per cent of the territory under Indian control and the remainder with Pakistan" (The Telegraph, 2001). This "Line of Control" thus became the line that has divided India and Pakistan (The Telegraph, 2001).
Then, "In July 1949, India and Pakistan signed the Karachi Agreement establishing a ceasefire line to be supervised by the military observers. These observers, under the command of the Military Adviser, formed the nucleus of the United Nations Military Observer Group in India and Pakistan (UNMOGIP). On 30 March 1951, following the termination of UNCIP, the Security Council, by its resolution 91 (1951) decided that UNMOGIP should continue to supervise the ceasefire in Kashmir. UNMOGIP's functions were to observe and report, investigate complaints of ceasefire violations and submit its finding to each party and to the Secretary-General" (United Nations, ND).
In the following years, India began looking to bring Kashmir into their country. They were able to do so in 1957, where Kashmir became a part of India (The Telegraph, 2001).
1965 India-Pakistan War
In 1965, India-Pakistan relations worsened to the point of international conflict. The countries engaged in battle with one another "because of their conflicting claims over the Rann of Kutch at the southern end of the international boundary. The situation steadily deteriorated during the summer of 1965, and, in August, military hostilities between India and Pakistan erupted on a large scale along the ceasefire line in Kashmir. In his report of 3 September 1965, the Secretary-General stressed that the ceasefire agreement of 27 July 1949 had collapsed and that a return to mutual observance of it by India and Pakistan would afford the most favourable climate in which to seek a resolution of political differences" (United Nations, ND). The United Nations Security Council urged a cease-fire between the two states, but both sides expressed conditions. Then, it was not until September 20th that another UN Security Council resolution was  passed, and then, two days later, on September 22nd, 1965 in which the cease-fire would commence. The United Nations also increased their role in ensuring the case-fire between India and Pakistan by helping in not only supervising the cease-fire, but also the withdrawal of troops (United Nations, ND).
However, since the cease-fire was not being followed, "The Security Council further demanded the prompt and unconditional execution of the proposal already agreed to in principle by India and Pakistan that their representatives meet with a representative of the Secretary-General to formulate an agreed plan and schedule of withdrawals. In this connection, the Secretary-General, after consultation with the parties, appointed Brigadier-General Tulio Marambio (Chile) as his representative on withdrawals" (United Nations, ND). Then, in January of 1966, the leaders of India and Pakistan met to discuss the cease-fire to the Kashmir conflict. Both sides came away from the meetings saying that they would retreat their troops to positions before August 5th, 1965, and that this should be recognized by February 25th, 1966. The military leaders met again, and confirmed an agreement on both sides to remove troops, which they both did on the 26th of February, 1966 (United Nations, ND).
Kashmir During the 1980s and 1990s
While the two decades prior to the late 1980s saw a more stabilized "status quo" position, the 1980s witnessed Kashmiri calls for determining their own political future. However, the Indian government opposed these calls. Furthermore, hostilities increased further when a 1987 election was fixed. This turned many in Kashmir away from elections, and towards violence. Following the 1987 election, the region saw an increase in jihadist groups. For example, a number of Pakistani based organizations began using violence and terrorism to move the Hindu population out of the Indian Kasmir valley. This led to a military response by the Indian government. All the while, Indian and Pakistani military forces were frequently shooting at one another (The Telegraph, 2001).
India has longed believed that the Pakistani military has encouraged the activity of these groups. Others wonder whether the Pakistani government has any influence over these actors. Nonetheless, the Indian government has often viewed the government as a major problem, frequently going as far as calling Pakistan a "terrorist state" (Carter Center, 2003: 4).
It has been argued that India at this time had no longer been as willing to work through the United Nations compared to 1947 (The Telegraph, 2001). In fact, "Over the decades the plebiscite advocated by India's great statesman Jawaharlal Nehru became a dirty word in New Delhi. These developments have led many to believe that Delhi has squandered the Kashmiri people's trust and allegiance" (The Telegraph, 2001).
It was also in the late 1990s that both India and Pakistan were building up their nuclear weapons programs, not only testing bombs (in 1998, for example), but also ensuring that they had missiles capable of carrying the nuclear warheads. It was also during early August of 1998 that the two sides escalated their fighting with one another,
Then, arguably one of the closest periods of a large-scale conflict in the history of India-Pakistan relations came in 1999 in the Kargil area of Kashmir. According to reports,
When India began patrolling the Kargil heights that summer, it found to its horror that many key posts vacated in the winter were occupied by infiltrators. A patrol was ambushed in the first week of May 1999. India belatedly realised the magnitude of the occupation – which was around 10 km deep and spanned almost 100 km of the LOC – and sent MiG fighters into action on May 26.

India contended that the infiltrators were trained and armed by Pakistan, and based in "Azad Kashmir" with the full knowledge of the Pakistani government – and that Afghan and other foreign mercenaries accompanied them.

Pakistan insisted that those involved were freedom fighters from Kashmir and that it was giving only moral support.
It has been argued that Pakistan's support for the Islamists was because of the new confidence that they had from nuclear weapons (Hoodbhoy & Mian, 2002). It was here that United States President Bill Clinton got involved, meeting with Pakistani Prime Minister Nawaz Sharif in Washington on the fourth of July (The Telegraph, 2001). As Hoodbhoy & Mian (2002) write, "where he was bluntly told to withdraw Pakistani forces or be prepared for full-scale war with India. Bruce Reidel, Special Assistant to President Clinton, writes that he was present in person when Clinton informed Nawaz Sharif that the Pakistan Army had mobilized its nuclear-tipped missile fleet.1 (If this is true, then the preparations for nuclear deployment and possible use could only have been ordered by General Pervez Musharraf at either his own initiative or in consultation with the army leadership.) Unnerved by this revelation and the closeness to disaster, Nawaz Sharif agreed to immediate withdrawal, shedding all earlier pretensions that Pakistan's army had no control over the attackers."
It was also on that day that India gained additional territory in Kashmir. The fighting between these two states continued until August of that year. In total it was said that roughly 500 members of the Indian military died, and under 1,000 "infiltrators" (as India, saw them) killed. This conflict was even more worrying given the nuclear power of each state (The Telegraph, 2001). For Pakistan, even though many did not view them on the side of victory during this conflict, for the military, it was a success. The reason was that they were able to keep India within Indian-controlled Kashmir (Hoodbhoy & Mian, 2002).
The Kashmir Conflict Today
Currently, Kashmir is controlled by three countries:
"India-controlled: One state, called Jammu and Kashmir, makes up the southern and eastern portions of the region, totaling about 45% of Kashmir.

Pakistan-controlled: Three areas called Azad Kashmir, Gilgit and Baltistan make up the northern and western portions of the region, totaling about 35% of Kashmir.

China-controlled: One area called Aksai Chin in the northeastern part of the region, equaling 20% of Kashmir" (Hunt, 2016).
As mentioned, the different countries have been at odds over control of Kashmir. Following a relatively long period in which the region saw little fighting, it seems that since the summer of 2016, there has been a rising in tense Indian-Pakistani relations over the region. Much of this began in July of 2016 when protests begin in Kashmir following the death of Burhan Wani, who commanded a separatist organization, Hizbul Mujaheedin (Ahmad, Phillips, & Berlinger, 2016). The death, praised by Indian military officials, was followed by mass protests, and attacks on government and police locations by Kashmiris. The protests in turn led Indian officials to implement curfews (Ahmad, Phillips, & Berlinger, 2016). Yet, the conflicts between protesters and police has claimed dozens of lives, including "Nasir Shafi, an 11-year-old boy found dead on Friday on the outskirts of Srinagar." According to reports, "Police said the boy was hit with pellets during clashes between the two groups." These pellets have been a weapon of police; hundreds of protesters have been hit in the eyes with these pellets (Ahmed, Phillips, & Berlinger, 2016).
The violence between India and Pakistan further escalated in September and October of 2016 at some of the highest levels in decades. On September 18th, 2016, it was reported that an army base was attacked by militants, and during this attack, 18 Indian soldiers were killed.
Indian officials spoke out against the attack, calling out Pakistan. One official, seemed to allude to a Pakistani connection to the militants. Rajnath Singh, who is the Home Affairs Minister for India not only said that those responsible were "highly trained, heavily armed and specially equipped[,]" but also went even further, offering direct criticism of Pakistan, saying that "Pakistan is a terrorist state and it should be identified and isolated as such" (Ahmad, Phillips, & Berlinger, 2016). He also said that "he was "deeply disappointed with Pakistan's continued and direct support to terrorism and terrorist groups"" (Ahmad, Phillips, & Berlinger, 2016).
Pakistan has denied this, criticizing India's action in Kashmir. Pakistani spokesperson Nafees Zakaria said that the Pakistani Minister of Foreign Affairs condemned the statement. Zakaria said that "This is a very irresponsible and baseless allegation that he has leveled against Pakistan which we outrightly reject" (Ahmad, Phillips, & Berlinger, 2016). He went on to say that ""India is desperately looking for ways to deflect the world's attention from the situation in India-occupied Kashmir," Zakaria said. "Pakistan investigates and does not give knee jerk reactions whenever any such incident takes place. We reject these claims"" (Ahmad, Phillips, & Berlinger, 2016).
Then, in response to this attack in the Indian controlled part of Kashmir, India carried out strikes in Kashmir after they said that terror groups were preparing using Kashmir to prepare for attacks in India.
However, again, Pakistan was furious at India's action in the region. As the video below discusses, Pakistan rejected India's claim, and instead argued that this was an attempt to "provoke" the Pakistani government.
 The Pakistani military has also said that India is unable to carry out such an attack. For Pakistan, it is important for them to argue that India was not in the Pakistani part of Kashmir; "The presence of Indian forces so far across the Line of Control (LoC) would be a stinging blow to Pakistan, particularly after the 2011 US raid that killed Osama bin Laden which took place on its territory without its consent" (Ahmed, 2016).
Indian-Pakistan tensions continued to rise in October of 2016 when the fighting in Kashmir continued. According to reports out of NDTV, "Nearly 100 terrorists are being prepped to cross the Line of Control and launch attacks in India, the cabinet committee on security or CCS chaired by Prime Minister Narendra Modi was informed today [on October 5th] with a report by National Security Advisor Ajit Doval, according to sources" (Shrivastava, 2016). According to reports, "The group, which includes the Home, Foreign and Defence Ministers, was told that after India's action, the Pakistani infantry is protecting launch pads near the Line of Control or de facto border in Jammu and Kashmir. The locations of nearly a dozen launch pads have been identified, said sources at the meeting" (Shrivastava, 2016). There are worries by India that Pakistan will be aiding terrorists to go into India and carry out strikes (Shrivastava, 2016).
These concerns have left Pakistan upset, since it implies that they are willing to support terror activity against India. Pakistan has not remained silent on the developments in Kashmir. For example, on October 6th, 2016, it was reported that "Pakistan's army chief is warning India any military aggression in contested Kashmir will not go unpunished. General Raheel Sharif said Thursday Pakistan wants good relations with all its neighbors, but no one should mistake its collective resolve to defend itself" (VOA, 2016).
Kashmir continues to see rising hostilities as civilians protested the killing of a young boy in the region. According to reports, "Indian forces fired shotgun pellets and tear gas Saturday [October 8th] as thousands carried the body of a young boy killed overnight during an anti-India protest in the main city of Indian-controlled Kashmir. Chanting slogans "Go India, go back" and "We want freedom," thousands of residents marched to the main Martyr's Graveyard in Srinagar for the burial of the 12-year-old boy. Police and paramilitary soldiers fired warning shots, pellets and tear gas, fearing the procession could become a larger rally seeking an end of Indian rule in the disputed Himalayan region…" (Hussain, 2016
). There were different accounts of what led to the boy's death. The Indian government claimed that the boy was involved in the protests, whereas those living in the area said that he was inside his place of residence, and was hit (Hussain, 2016).
Then, it was reported that on October 16th, "Indian Prime Minister Narendra Modi branded Pakistan a "mother-ship of terrorism" at a summit of the BRICS nations on Sunday, testing the cohesion of a group whose heavyweight member China is a close ally of India's arch-rival. Modi's remarks to a meeting of leaders from the BRICS — which include Brazil, Russia, China and South Africa — escalated his diplomatic drive to isolate Pakistan, which India accuses of sponsoring cross-border terrorism" (Busvine & Pinchuk, 2016). Modi was quoted as saying that ""In our own region, terrorism poses a grave threat to peace, security and development," and went on to add that ""Tragically, the mother-ship of terrorism is a country in India's neighborhood," These sorts of comments have been out of the norm for Modi and how he has approached India-Pakistan relations in the past. Traditionally, India has tried to maintain a level of constraint with Pakistan (Busvine & Pinchuk, 2016).
India-Pakistan Relations and Nuclear Weapons
Given the conflict over Kashmir, there are always concerns that a war between these two states could escalate because of nuclear weapons. Historically, there have been questions as to whether either side would actually be willing to use such powerful and dangerous weapons, knowing the implications of such an act. However, there is at least some evidence to suggest that the worsening India-Pakistani relations over Kashmir have led leaders to at least consider the possibility of a nuclear attack.
On December 13th, 2001, five Pakistani gunmen began an attack on the Indian parliament building in the city of New Delhi. A total of 14 people were killed (with five of them being the gunmen. India said that the group Lashkar-e-Taiba, an organization based out of Kashmir, was responsible for the attack. India also said that the group was backed by Pakistan. What happened next left many fearing for the worst: India brought about 500,000 troops to the border. In addition, they also had prepared their nuclear missiles. What made things even worse was that Pakistan also  prepared their missiles.
According to reports, "…Pakistani President Pervez Musharraf said last December that if India had, indeed, invaded, its armies would have met with an "unconventional response" (Carter Center, 2003), and that ""Pakistan has taken all countermeasures," he said at the time. "If any war is thrust on Pakistan, Pakistan armed forces are fully prepared to face all consequences with all their might"" (NPR, 2008). In addition, "General Mirza Aslam Beg, the former chief of Pakistan's army, declared: "We can make a first strike, and a second strike, or even a third." The lethality of nuclear war left him unmoved. "You can die crossing the street," he observed, "or you could die in a nuclear war. You've got to die some day anyway"" (Hoodbhoy & Mian, 2002).
In response to Pakistan's comments about nuclear weapons, ""India's defense minister, George Fernandes, responded saying, "We can take a [nuclear] bomb, or two or more … but when we respond there will be no more Pakistan"" (Carter Center, 2003). Other comments were equally, if not even more alarming. For example, " Indian Defence Secretary Yogendra Narain took things a step further in an interview with Outlook Magazine: "A surgical strike is the answer," adding that if this failed to resolve things, "We must be prepared for total mutual destruction."3 Indian security analyst, Brahma Chellaney, claimed "India can hit any nook and corner of Pakistan and is fully prepared to call Pakistan's nuclear bluff"" (Hoodbhoy & Mian, 2002).
There was serious belief by world leaders that India was going to enter a war with Pakistan following this attack. According to US National Security Advisor Condoleezza Rice at the time, she worked to reduce hostilities, which she believes helped to somewhat calm a high tense time. It is believed that Indian military officials had some go-ahead to strike carry out a strike against Pakistan (Hindustan Times, ND). However, India recognized that little value would come from a war with Pakistan. There was too many positive developments happening in the country of India to jeopardize with a war that might not even lead to any positive political outcome (NPR, 2008).
Scholars argue that part of the reason for the escalation in rhetoric, and the possibility of a nuclear war between these two countries is not only that Pakistan has attempted to do more following the establishment of the nuclear weapons, but also that India has generally not taken Pakistani nuclear threats very seriously. There are many within the Indian government ranks who believe that that United States is able to control Pakistan's possible usage of any weapon. Furthermore, leaders in the government have iterated their lack of concern by Pakistan nuclear weapons comments, which only further suggests a lack of seriousness towards the issue. For example, "At a meeting in Dubai…in January [of 2002], senior Indian analysts said they were "bored" with Pakistan's nuclear threats and no longer believed them. K. Subrahmanyam, an influential Indian hawk who has advocated overt Indian nuclearization for more than a decade, believes that India can "sleep in peace"" (Hoodbhoy & Mian, 2002).
Improving India-Pakistan Relations
Given the state of conflict between these two countries, scholars and policymakers have long posited options for improved ties between India and Pakistan. Some have long argued that a reduction of nuclear weapons would be one positive step in ensuring that a major conflict with such devastating tools would not be possible. Others have suggested that cooperation is what is necessary not only to prevent a war, but also to build strong states and institutions. The Carter Center (2003) has argued that positive cases between India and Pakistan can provide a path to further cooperation initiatives; "Energy trade is one area of considerable promise. India could consume as much energy as it could receive from any and all of its neighbors. Energy relationships create dependency relationships, almost by definition. And India and Pakistan's experience with the Indus Water Treaty is one of the rare positive examples of prudence and creativity in the otherwise troubled bilateral relationship" (4).
The Carter Center (2003) also argues for continued diplomacy. For them, it is important that conversations continue, even when violence breaks out. They recognize that by giving into the violence, it will allow "spoilers" to dictate the direction of policy on Kashmir. In the talks, it is also imperative for compromise (Carter Center, 2003). Moreover, it has been argued that the United States has a role in helping to improve India-Pakistan relations. The US has had a long history of ties with Pakistan–as far back as the Cold War, although there have been US concerns about Pakistan's nuclear weapons program) (Kronstadt, 2006), and despite political challenges between India and the United States during the Cold War, there has exited a far improved relationship following the fall of the Soviet Union (Kronstadt & Pinto, 2013).
Scholars and those in policy alike argue there is a lot that the United States can do to help both India and Pakistan. They can be a key actor in improving relations between the two states. For example, "Formal bilateral confidence-building measures (CBMs) agreed upon at the official and unofficial levels can help effect a new process by setting into place the building blocks for an eventual agreement, targeting substantive issues such as reducing and removing troops from uncontested areas and implementing technical safeguards to monitor infiltration. These safeguards would likely include sensor technology, provided by the United States to both Pakistan and India, to make the Line of Control harder to cross by militants. Technological deployment of this kind would likely require coordination by both India and Pakistan and would build confidence by demonstrating a concrete commitment by Pakistan to act assertively on infiltration and a willingness by both parties to work together in resolving this contentious issue" (7).
 India-Pakistan Relations in 2017
India and Pakistan continues to fight over the Kashmir region in 2017, all the while speaking against one another at the United Nations. For example, during the opening of the 2017 United Nations, both countries took turns trading verbal barbs. 
References
Ahmad, M., Phillips, R. & Berlinger, J. (2016). Uri attack: Indian soldiers killed in Kashmir. CNN. September 19, 2016. Available Online: http://edition.cnn.com/2016/09/18/asia/india-kashmir-attack/
Ahmed, I. (2016). Pakistan impregnable, military insists after Kashmir 'raid'. Yahoo News. October 2nd, 2016. Available Online: https://www.yahoo.com/news/pakistan-impregnable-military-insists-kashmir-raid-072700959.html
Busvine, D. & Pinchuk, D. (2016). UPDATE 1-India's Modi, at summit, calls Pakistan "mother-ship of terrorism". Reuters. In CNBC. October 16, 2016. Available Online: http://www.cnbc.com/2016/10/16/reuters-america-update-1-indias-modi-at-summit-calls-pakistan-mother-ship-of-terrorism.html 
Carter Center (2003). The Kashmiri Conflict: Historical and Prospective: Intervention Analyses. The Carter Center. November 19-21, 2002. Available Online: https://www.cartercenter.org/documents/1439.pdf
Hindustan Times (ND). When India almost went to war with Pakistan. Hindustan Times. Available Online: http://blogs.hindustantimes.com/inside-story/2011/11/02/when-india-went-to-war-with-pakistan-twice/
Hoodbhoy, P. & Mian, Z. (2002). The India-Pakistan Conflict: Towards The Failure of Nuclear Deterrence. Nautilus Institute for Security and Sustainability. November 13, 2002. Available Online: http://nautilus.org/napsnet/special-policy-forum-911/the-india-pakistan-conflict-towards-the-failure-of-nuclear-deterrence/
Hunt, K. (2016). India and Pakistan's Kashmir dispute: What you need to know. CNN. September 30, 2016. Available Online: http://www.cnn.com/2016/09/30/asia/kashmir-explainer/index.html
Hussain, A. (2016). Anti-India clashes erupt in Kashmir city after boy's killing. The Washington Post. October 8, 2016. Available Online: https://www.washingtonpost.com/world/asia_pacific/rebels-attack-police-post-in-kashmir-killing-policeman/2016/10/07/b33909c2-8d04-11e6-8cdc-4fbb1973b506_story.html
Kronstadt, A. (2006). Pakistan-US Relations. CRS Issue Brief for Congress. March 6, 2006. Available Online: http://www.fas.org/sgp/crs/row/IB94041.pdf
Kronstadt, A. & Pinto, S. (2013). U.S.-India Security Relations: Strategic Issues. Congressional Research Service. January 24, 2013. Available Online: https://www.fas.org/sgp/crs/row/R42948.pdf
NPR (2008). Fears Of India-Pakistan Nuclear War Raged In 2002. NPR. All Things Considered. December 18, 2008. Available Online: http://www.npr.org/templates/story/story.php?storyId=98443922
Roychowdhury, A. (2016). Here is a history of India-Pakistan conflict. The Indian Express. September 29, 2016. Available Online: http://indianexpress.com/article/research/here-is-a-history-of-india-pakistan-conflict/
Shrivastava, R. (2016). 100 Terrorists At Launch Pads Near Line of Control, PM Narendra Modi Is Told. NDTV. October 5, 2016. Available Online: http://www.ndtv.com/india-news/nearly-100-terrorists-waiting-to-cross-line-of-control-pm-modi-is-told-1470433?pfrom=home-lateststories
The Telegraph (2001). A brief history of the Kashmir conflict. The Telegraph. 24 September 2001. Available Online: http://www.telegraph.co.uk/news/1399992/A-brief-history-of-the-Kashmir-conflict.html
United Nations (ND). India-Pakistan Background. Available Online: http://www.un.org/en/peacekeeping/missions/past/unipombackgr.html
Voice of America (2016). Pakistan Will Meet Indian Aggression in Kashmir with 'Most Fitting Response.' Voice of America (VOA). October 6, 2016. Available Online: http://www.voanews.com/a/pakistan-will-meet-indian-aggression-in-kashmir-with-most-fitting-response/3539437.html